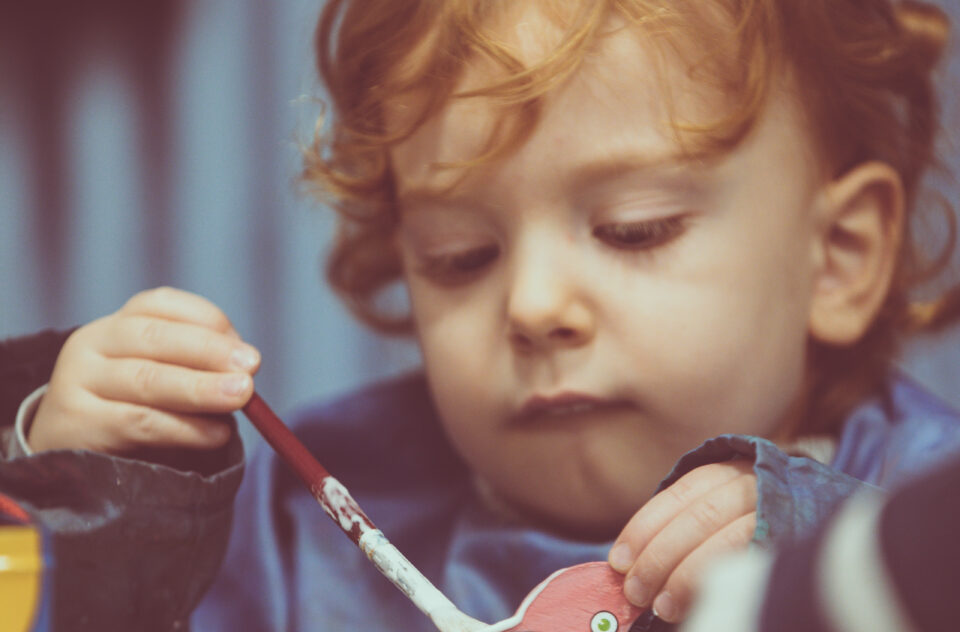 Cultural Actions
Between entertainment and poetry, artistic and cultural education at La Belle Électrique is accessible to all, through encounter and practice, by making the public the own actors of cultural creation in their school, their neighborhood, their city...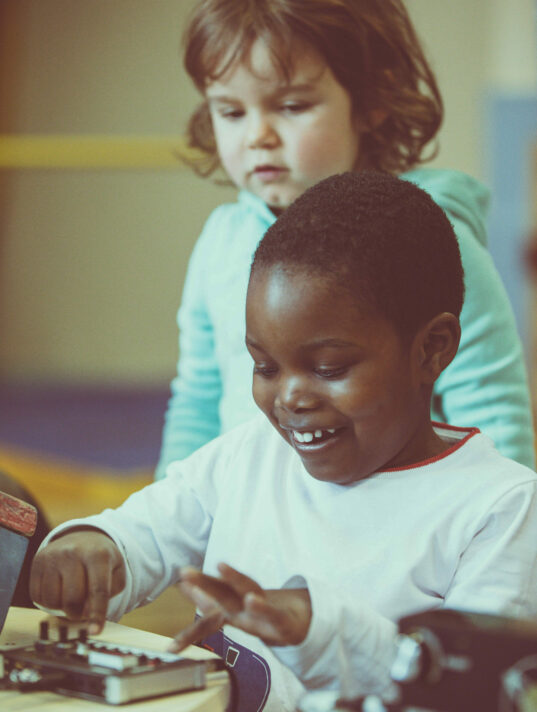 Artistic and cultural education
"Great works of art are only great because they are accessible and comprehensible to everyone." - Leo Tolstoï

Cultural actions don't only aim to make culture intelligible and accessible to everyone. They also allow the individual to be placed at the very center of creation and think of their own expression as a form of art in its own right.
Through cultural actions, we are willing to break down the barriers between the elitist perception of artistic practices and the so-called "common" art. This way, we want to awaken vocations as well as a feeling of legitimacy in each participant. These moments make it possible to give all participants the tools they need to create, learn and express themselves, independently of their daily cultural practices and with a dimension of sharing.

By gathering participants, supervisors and speakers, we also want the artists to find the inspiration that is so precious to their creation and the supervisors to witness and experience different visions of the world.

Concretely, artistic and cultural education is bespoke and can take multiple forms:
Initiation to amplified music and digital cultures, multi-topic workshops (plastic arts, dance...), Boom Boom for all, guided tours of La Belle Électrique, backstage discovery, public rehearsals, meetings with artists…
A single session, a workshop or a full project... There are as many options as ideas!
Audiences
The public, actors of our cultural actions

We try to reach the biggest audience possible :
Schools, from nursery to university;
Daycares and families;
Adults;
Seniors;
Social action structures; medical structures;
People in reintegration;
Prison environment…
Focus on the early childhood:
It is more that necessary for children to discover artistic disciplines and practices from the earliest age. To support these grown-ups to be, we work on helping them develop their critical mind so that they are best prepared for the rest of their learning!
Implementation
Each project is unique, with a common focus: teamwork

For each project, an activity is built with a partner (a structure, an association, a school...) and an artist that will guide and animate the session. Together, we build a project in the most innovative way, with a strong focus on public service.

The choice of digital cultures linked to amplified music allows us to train the artists and to raise awareness about these new practices among our partners (e.g. teachers or early childhood professionals).
It is also a way to introduce young adults to new techniques and tools. However, the goal is above all to give children and toddlers the opportunity to develop a critical view of digital technology.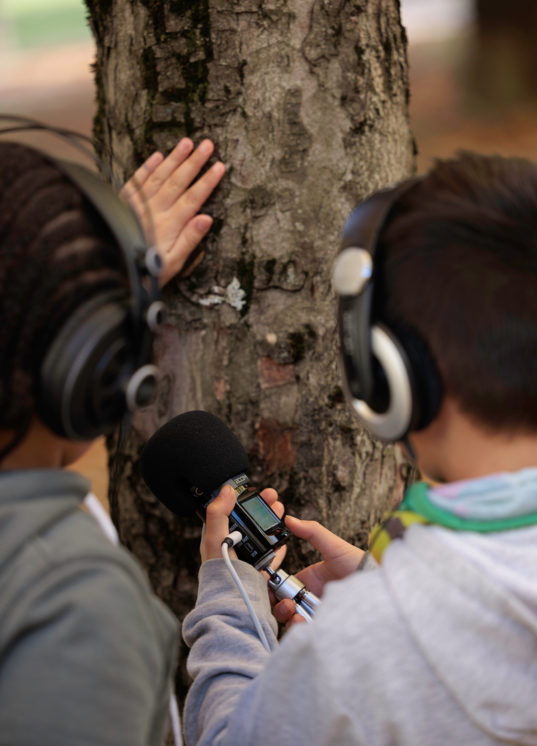 Kaléidoscopes
Kaleidoscopes is a chance for youngsters to get to grips with music and movement arts without pricking themselves! Three sessions to touch, listen, feel, look and, above all, create by interweaving sound and dance. Accompanied by a contemporary music artist and a dance artist, who have devised a hands-on discovery program for the occasion, children experiment with what music produces through their bodies.
A partnership between La Belle Electrique and the Centre Chorégraphique National de Grenoble, these workshops are aimed at both groups of children in leisure centers and individuals. These three workshops take place alternately in the CCN dance studios and in the Labo de la Belle practice room, for children aged 8 to 12, subject to registration.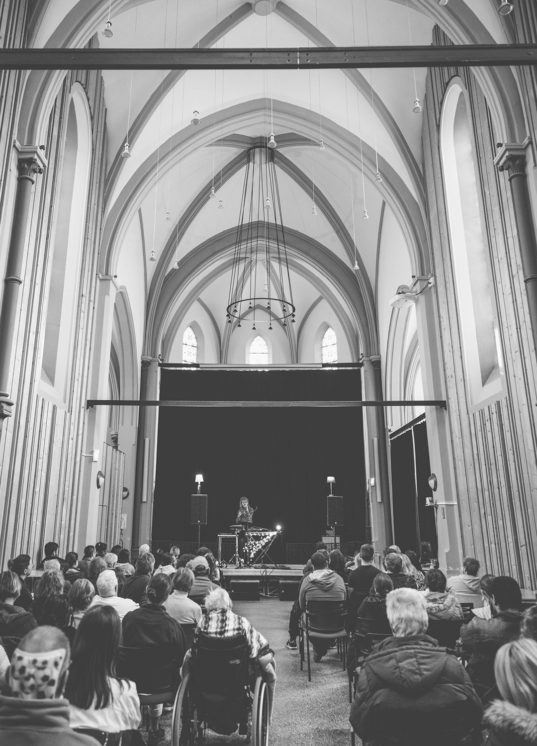 La Belle outside the walls
Because not everyone can get to a cultural venue, La Belle Electrique reaches out to those who don't necessarily frequent its concert hall by organizing showcases, 45-minute mini-concerts followed by a time of discussion with the artists. So it's that after lunch, EHPAD residents regularly see a technician transforming the refectory into a warm and inviting place to listen to music, or the sound of music at the end of a corridor in the St-Egrève public mental health facility, or a festive moment at the Point d'Eau association, a day care center for the underprivileged. Alone or in small groups, the artists surprise the site's users by offering a musical interlude and a close encounter with the public!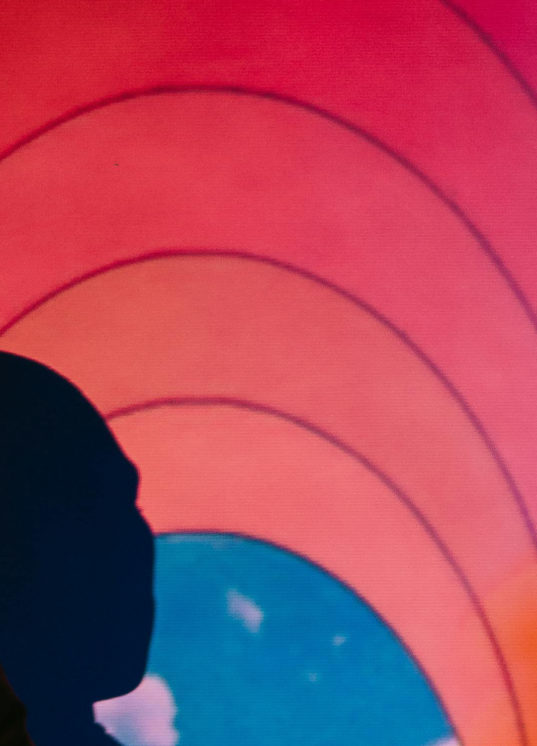 Pinocchio
The opera-jazz Pinocchio is a large-scale stage work combining several artistic and cultural fields: singing, choreography, comedy, musical moments on stage and visual projection. Currently in the process of being created, the show will be performed by over a hundred students from the Munch school. In November and December, La Belle is offering six workshops on the visual creation of the backdrop. With Johanna Rousseau, a multi-faceted artist, 5th and 4th graders learn how to use video projection to create several tableaux to serve as backdrops for the opera. On the program: discovery of different visual arts techniques: stop motion, paper cut-outs, videos...
To discover the results of this wonderful project, you'll have to wait for the restitution at La Belle, on February 13!
A project supported by the DAAC of the Grenoble Academy, the Isère department and the DRAC AuRA.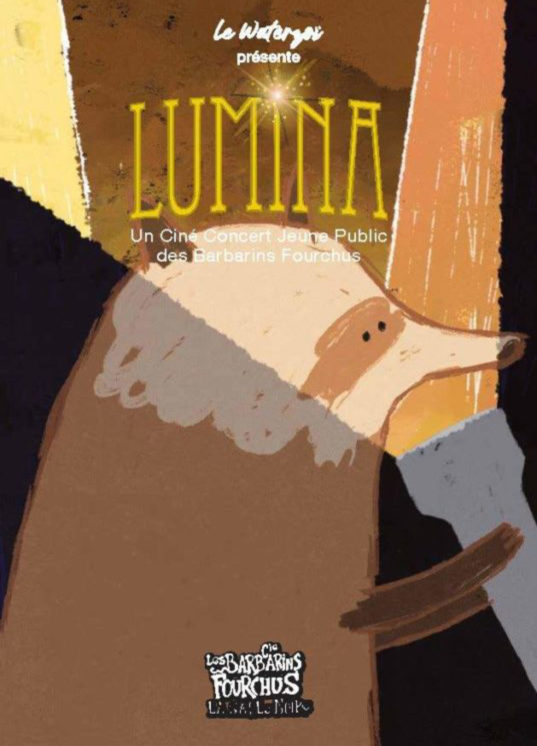 Around the programming... LUMINA workshops
La Belle Électrique is delighted to welcome the latest creation for young audiences from its neighbors, Les Barbarins Fourchus: LUMINA. This poetic ciné-concert, featuring five animated shorts from Eastern Europe, takes us on a visual and aural journey around light. In December, musicians Touma Guittet and Richard Pesenti will be leading workshops at Nicolas Chorier school and MJC Parmentier to help children discover the other side of this creation. Over two hours, the artists will present the films and the instrumentarium used, and introduce the techniques of setting music and sound effects.
A first approach to cine-concert before coming to see the show "in real life" on the Belle stage on Wednesday December 20 at 3pm!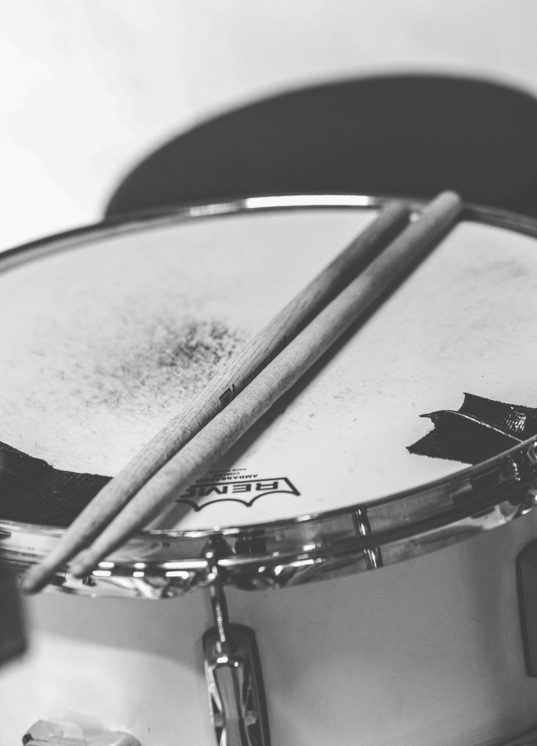 Organizing a concert... from A to Z
We're used to seeing concerts...in a concert hall, but La Belle also exports beyond its walls! This is what the inmates of the Maison d'Arrêt de Varces are discovering, not only as spectators but also as organizers. Throughout the month of September, a group of ten or so people met regularly with six La Belle Électrique employees from different professions, all of whom are essential to the smooth running of a cultural event. The first step is to select a group from the nine shortlisted, then to "produce the date": i.e. find the ideal date, draw up a roadmap or study the contract. Then comes the time to communicate the information to the co-inmates, define the technical requirements and set up the stage. And finally, on the big day, it's time to welcome the audience and the artists to make the concert an unforgettable moment...
A project carried out in partnership with the Grenoble SPIP and MixLab, as part of the "Culture and Justice" call for projects.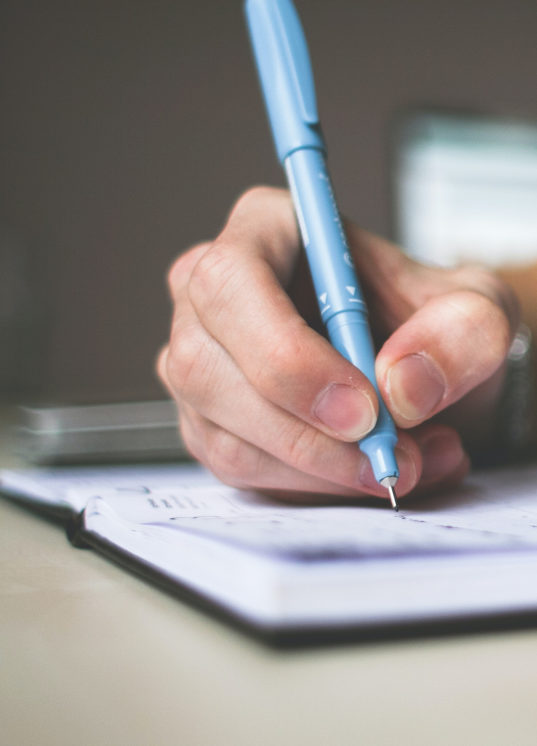 Rallumons les étoiles - writing workshops
Dernier volet du partenariat 2023 avec le Centre Hospitalier Alpes Isère, les équipes de l'hôpital auront la grande joie d'accueillir 3 cycles d'écriture sur cet automne et cet hiver menés par trois artistes de talent : Léa Dessenne, Katia Bouchoueva and Efrasis.
A travers des séances ludiques alternant, découverte des rythmes, lectures poèmes et jeux d'écriture, nous proposons aux patient.e.s, personnel et tout public de venir prendre la plume et coucher sur le papier chansons, histoires ou textes personnels.
During 1h30 each week, around a coffee, a time for initiate, fun, release, bloom, take confidence and share a friendly moment!
Each cycle will focus on a specific theme, resulting in a written report (booklet or exhibition) and perhaps... a performance!
With the support of the Agence Régionale de Santé Auvergne-Rhône-Alpes, the Ministère de la Culture - DRAC Auvergne-Rhône-Alpes and the Région Auvergne-Rhône-Alpes, as part of the regional Culture and Health program run by interSTICES.
With the support of the Département de l'Isère.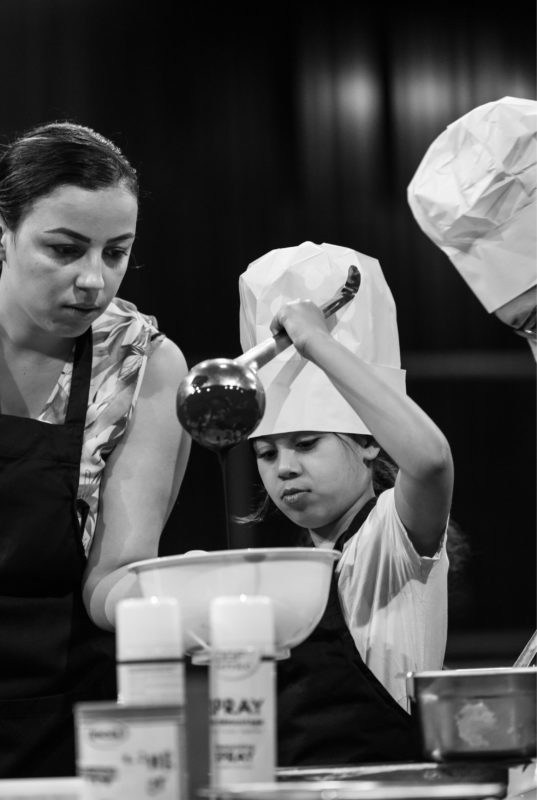 Les petits fourneaux
Culinary workshops for young and old.
Once a quarter, the Belle Électrique hall is transformed into a kitchen! In the kitchen, a dozen children and their parents are guided for 2 hours by Venceslas, our restaurant's head chef, and Claire, his second-in-command.
In collaboration with associations, the idea is to welcome families for a discovery of tastes and local, fresh and seasonal products. Two or three pastry recipes are prepared at each workshop, with a common thread running through the year: cooking a vegetable for dessert.
Everyone leaves with their own preparations and recipe cards, so they can treat their taste buds again at home.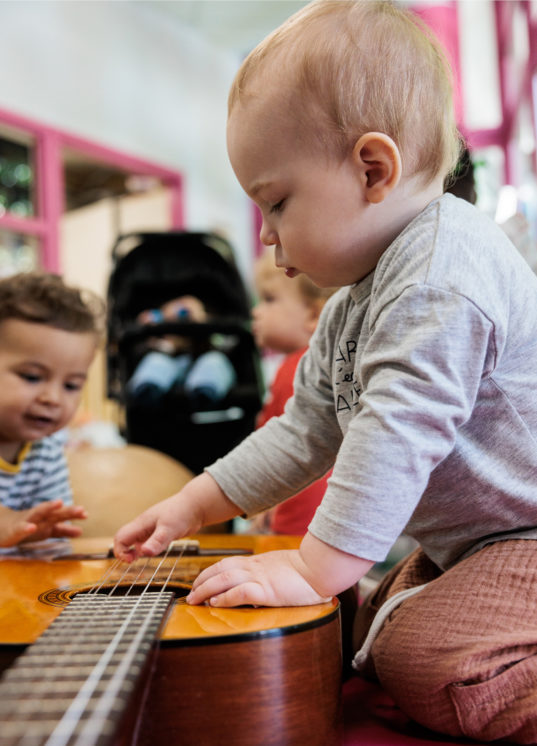 Sillons XXL... cello and dance for the little ones
As the final stage of the 2023 musical journey for young children, the Lyon-based company Zeif spent a week in October and two days in November at La Belle Electrique and 3 local crèches! The EAJE La Goélette, Armand and Anthoard day-care centers enjoyed a show and discovery workshops based on dance and cello. The children first discovered Sillons in the Salle de la Belle. A participatory, poetic and joyful show, each child could enter the performance space and interact with the performers. To continue the encounter, dancer Alexia Volpin and musician Anaïs Soreil visited each of the establishments to share more with the children and the teams, "making a rendezvous in sound and movement". An invitation that delighted young and old alike!
A project supported by the DRAC AuRA within the framework of Artistic and Cultural Education.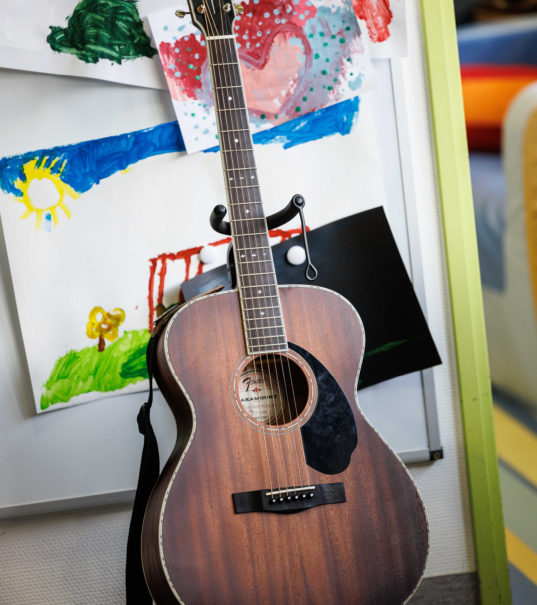 Décibels Chansons
The pediatric ward at Grenoble University Hospital was transformed into a song nursery from May to July! Auren, a musician and performer, led song-writing and music-setting workshops with young patients in their rooms, either individually or in groups at the Espace Arc-en-Ciel. This small, almost daily window of opportunity enabled these children and teenagers to awaken and reveal their creative side. They were able to take advantage of this time to approach the disease from a different angle or, on the contrary, to give free rein to their imagination. This small group of singers concluded the project by recording their songs.
A project supported by ARS Auvergne-Rhône-Alpes, DRAC Auvergne-Rhône-Alpes and Région Auvergne-Rhône-Alpes, as part of the regional Culture and Health program.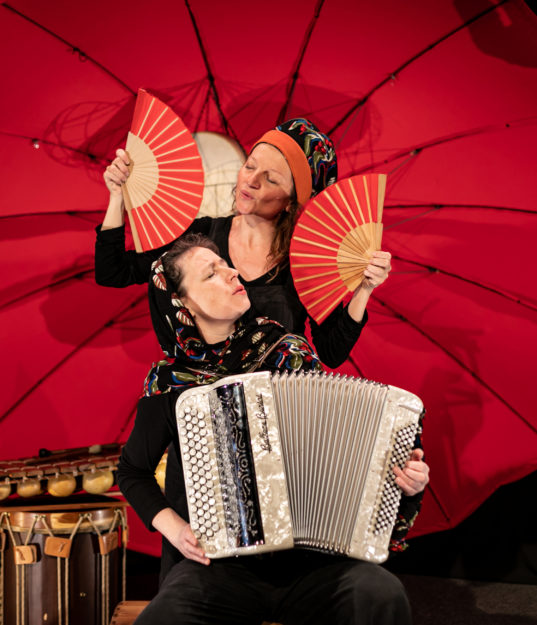 Around the program... an invitation to vOixYâGe for youngsters
As part of a year-long music project with EAJE Anthoard, Armand and La Goélette, children from the 3 crèches in sector 1 met Delphine and her many instruments throughout the month of May... The company La Fine Oreille visited each facility three times to offer a musical awakening to the songs and music of the world. The program featured "sensitive, poetic moments for young and old alike".
After practice, it's time for a show! The little ones were treated to the dreamlike show "vOixYâGe" at La Belle Électrique on Friday June 2. A second performance, this time open to all families, brought the cycle to a close the following day.
The vOixYâGe workshops are part of the "Musiques actuelles/petite enfance" project supported by DRAC Auvergne-Rhône-Alpes.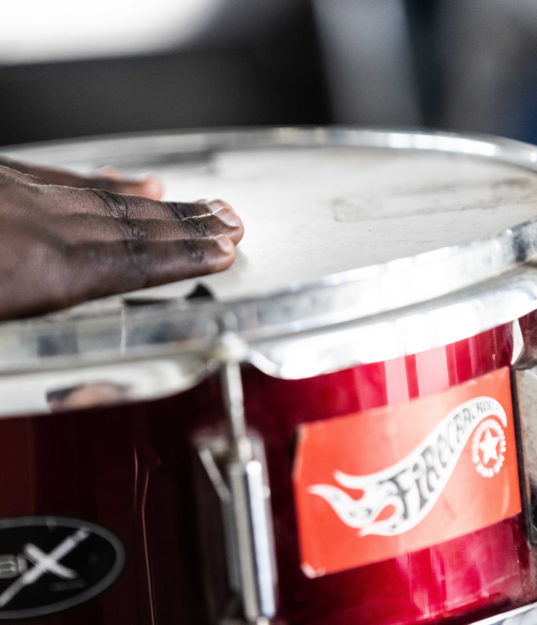 Collective musical creation
Thanks to artist-intervenors Léa Dessenne (Compagnie Megaptère) and Éric Capone (La Braslavie), there's no need for music theory lessons to play together and express yourself through music! Throughout May, in partnership with the associations Point d'eau and Issue de secours, the two artists accompanied two groups of people in the creation of a musical set.
Every Wednesday afternoon, some fifteen participants from a variety of backgrounds got together to make music. Words were not forgotten either, as these meetings also took the form of writing workshops, whether or not you can write, and whatever your language. It was an opportunity to exchange ideas and learn from each other, to learn to create collectively, and to give everyone a place, in a warm and friendly atmosphere. The concert took place on Saturday June 3 at the Bar de la Belle.
A project supported by DRAC AuRA and the association Point d'eau.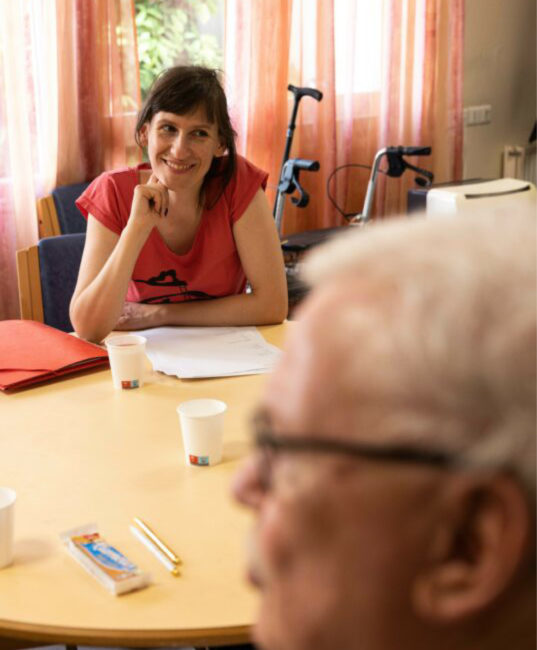 Podcaf' - a coffee podcast project
Following an initial partnership with EHPAD St Bruno last season, La Belle Électrique has renewed its desire to work with senior citizens!
This summer, Gisèle Pape, a multi-faceted artist, set down her suitcases and recorder at André Léo, a new facility run by Grenoble's CCAS (Quartier des Alliés). This multi-talented musician took the residents on an adventure, creating a series of sound pastilles featuring their testimonials, ambient sounds and, of course, songs sung by the choir led by the artist. Using the theme of the café, the elderly recounted their memories of the warm, comforting beverage and the convivial atmosphere.
On July 8, it was the turn of Café Léo, the EHPAD's third-party venue, to host a showcase by Gisèle Pape! A moment rich in emotion, immersing you in the world of radio.
A project supported by DRAC AuRA, ARS and Région Aura as part of the "Culture & Santé" call for projects.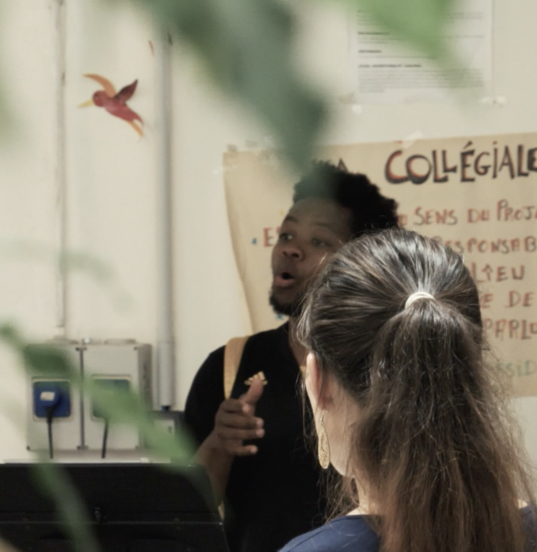 Donner de la voix
Introductory singing workshops at the Lîeu.
Every Tuesday in June, curious onlookers and enlightened amateurs took over the Lîeu, a venue open to residents of the street and the city, for the Donner de la voix collective singing workshops. Working alongside Benny Point-Owono, a singing teacher and choral conductor with diverse musical influences ranging from gospel and blues to traditional Cameroonian songs, participants learned to play with their vocal chords using a variety of techniques.
Encouraged by this initial success, the two structures are renewing their offer to apprentice singers, who will discover how to use their voices and bodies as instruments in their own right, through body stretching, vocal warm-ups and rhythmic training. The next step for our top singers is to harmonize the different tessituras of their voices, so that they can all sing together while remaining sensitive to themselves and others.
During these vocal explorations, the smiles come as much as the different sounds, enabling the participants to get away from everyday life, let go and gain in self-confidence.
A project supported by DRAC AuRa and run in partnership with Lîeu.
Around the program... with the B.U.S
Parent-child workshops and ukulele showcase.
On November 10, 2022, La Belle Électrique was delighted to welcome the delirious team from Big Ukulele Syndicate (B.U.S) to celebrate their 10th anniversary! Taking advantage of their Grenoble roots, we invited these over-vitamin merrymakers to carry out two actions aimed at different audiences.
From November 1 to 4, local families were introduced to ukulele playing and singing. Carried out in partnership with MJC Parmentier, parents and children had four evenings to discover the world of the BUS and prepare for their participation in the concert, as they all performed on the big stage at La Belle on the big day.
The following week, part of the band performed a showcase at Point d'Eau, a day-care center for people in precarious situations. A festive moment that opened our partnership for this 22-23 season!
A project carried out in partnership with MJC Parmentier and the Point d'eau association.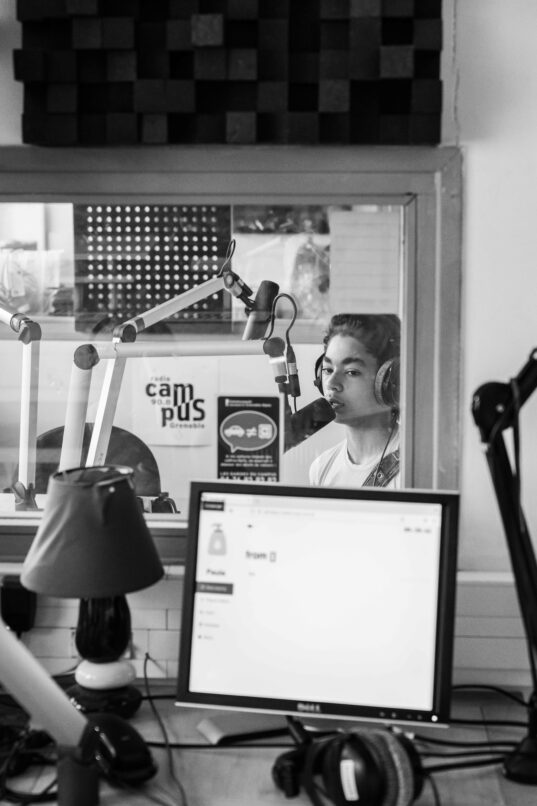 Les pieds sur (star)ter !
Introductory radio workshops for Starter students.
In 2022, the partnership between La Belle and the Starter scheme, which enables young people in 3rd grade to re-enter the school system, took on a new form: a radio project.
The workshops, spread over two months, brought together 15 young people from the Guynemer vocational high school. The involvement of Radio Campus, a partner in the project, enabled these young people to take their first steps in this practice and to learn about its tools and media: handling recorders, preparing and conducting interviews, introduction to audio editing and hosting a column...
With a view to professionalization, the young people were also invited to interview Belle Électrique professionals and artists to find out more about their professions.
The final objective was to create a series of podcasts reporting on these encounters, while giving the young people a free space to express themselves. Ultimately, they hosted a live broadcast during a Radio Campus Apérophonie.
This project was carried out in partnership with the Starter program and Radio Campus, and is supported by the DRAC AuRa as a cultural initiative.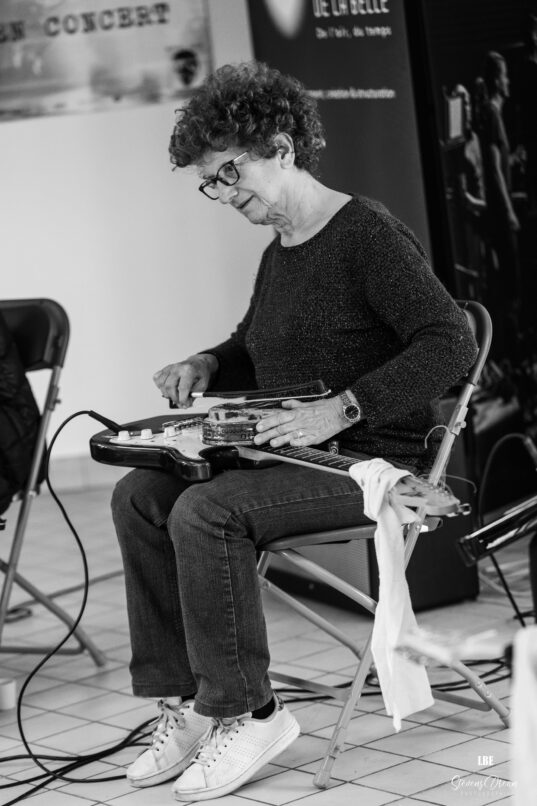 Les Mamies Guitares
Participatory artistic performance with electric guitar and writing.
From March 14 to 18, 2022, Labo de la Belle hosted an extraordinary adventure. For five days, seven senior women came together to take part in a creative process involving guitar and writing.
Guided by a crack team, Odile, Zohra, Maryse, Pascale, Jocelyne, Michèle and Anne took part in this adventure. In the hands of Mathieu Sourisseau, they discovered the guitar in an original and accessible way, and were able to immerse themselves in writing under the guidance of Ronan Mancec.
As the planned performance at l'Ampérage could not take place due to the covid, a document bringing together texts and photos of the project is due to be published shortly.
This project is run in partnership with the PAGI (Pôle d'Animation Gérontologique et Intergénérationnelle) of the Maison des Habitants Chorier-Berriat.
A project supported by the Auvergne-Rhône Alpes Region as part of the Regional Fund for Artistic and Cultural Innovation.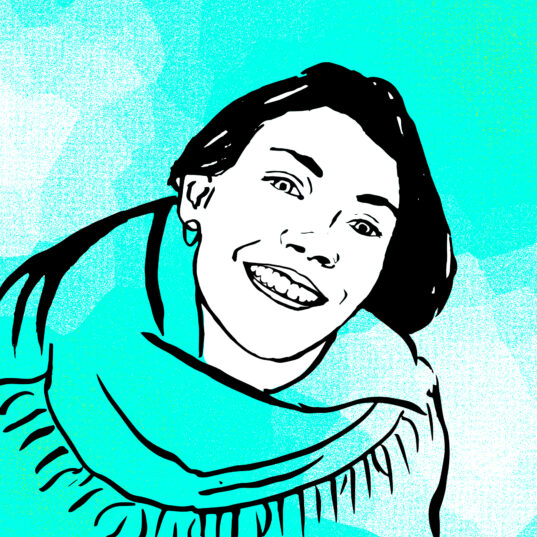 Get in touch with Émeraude
Are you an artist, a social structure or part of an association ? Are you willing to organise a tour of La Belle Électrique, to build a project together or simply talk to us ?
Émeraude will be pleased to discuss with you!
Émeraude Gomes, Cultural Actions Manager
04 69 98 00 33

At La Belle Électrique, we want to reach out more to new audiences and inhabitants. This is why we organize free outdoor concerts in partnership with local structures. These friendly events also represent an opportunity to promote the artists we support.